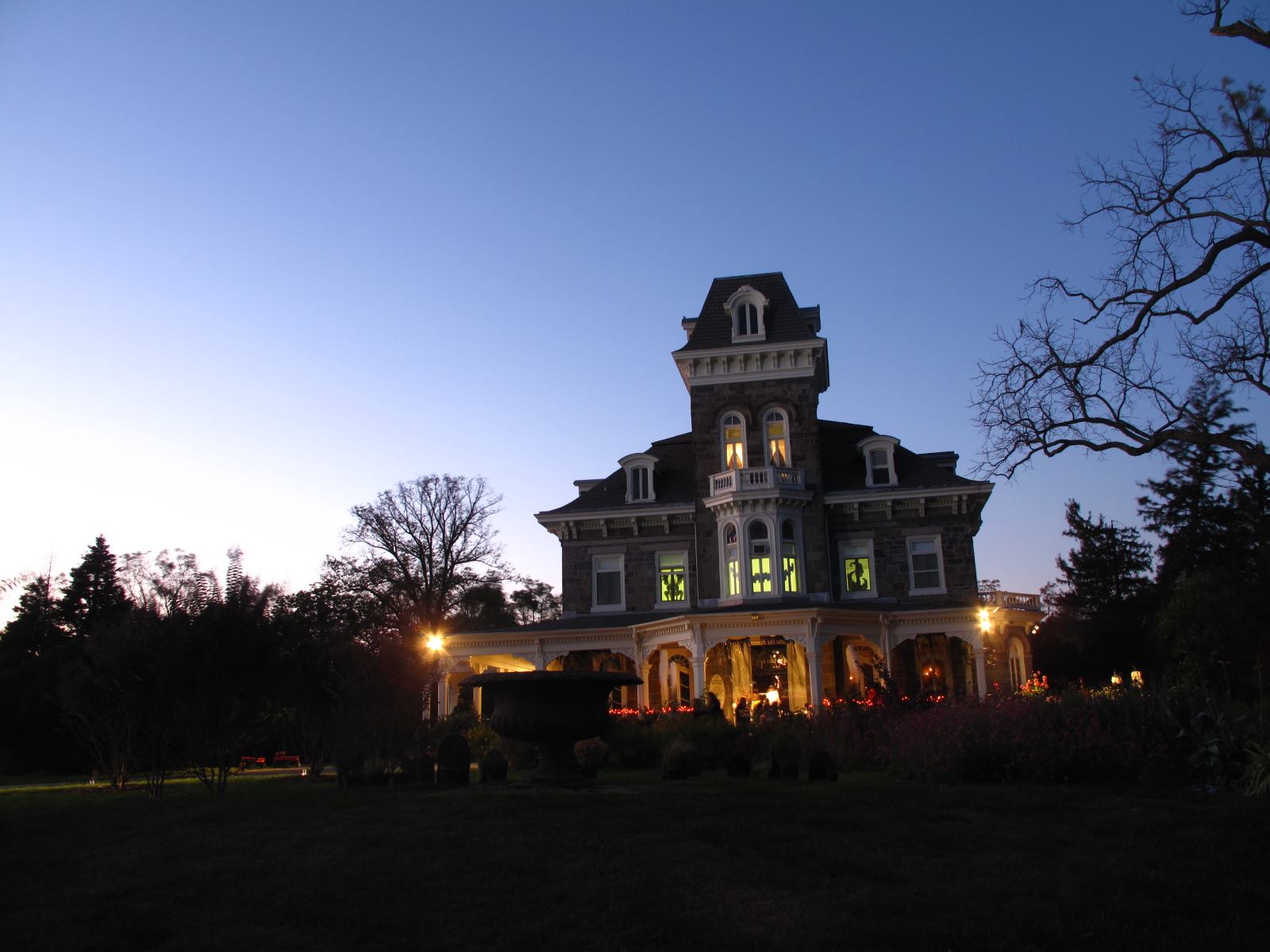 If COVID taught us anything, it's that there's more than one way to do Halloween right. In lieu of trick-or-treating and rowdy bar crawls, we managed to find lots of things to help keep our holidays both spooky and safe. This year, that resourceful theme continues, as eager Baltimoreans are gearing up to ring in several days of eerie goodness with the likes of creepy costume parties, ghoulish ghost tours, festivals, exhibits, and more.
Below, we've compiled a monster list of local ways to make this spooky season count:
SPIRITED SIGHTS
Oct. 20-Nov. 7: Dia de Los Muertos Altar and Celebration
Honor Dia de Los Muertos—and expose your artsy innards—when you add to multimedia artist Edgar Reyes' community altar, which will live at The Walters from Oct. 20 to Nov. 7. The museum will also host a virtual conversation about how Dia de Los Muertos traditions have evolved over time on Oct. 28 at 5:30 p.m. The Walters Art Museum. 600 N. Charles St. Oct. 20, 10 a.m. to Oct. 31: 5:30 p.m. Free.
Oct. 22: ArBOOretum
Traverse the Greenspring mansion's haunted trail (if you dare.) Plus, embark on guided nature tours, spot stilt walkers, and try your hand at creepy games and crafts. Cylburn Arboretum Friends. 4915 Greenspring Ave. 5:30-8 p.m. $5.
Oct. 30: "Gritty in the City" Highlandtown Ghost Tour
Led by local psychic mogul Darren Bucare, this paranormal walking tour of Highlandtown boasts fascinating stops along the way. Explore the fabled neighborhood as seen behind closed doors. Night Owl Gallery. 248 S. Conkling St. Unit C. $15-20. 5 p.m.
Oct. 31: A Nightmare on Charles St.
Along with festive brewed refreshments and a tasty hot dog bar, this bone chilling bonanza will include a special reading led by a performer playing Edgar Allan Poe. 333 N. Charles St. 7-10 p.m. Free.
Oct. 31: Witches at the Harbor
Beware! This Halloween, Canton's scenic waterfront becomes a site for witchcraft and warlockry. Grab a paddle to get in on all the fun or watch from dry land as the masters work their magic. Canton Waterfront Park. 3001 Boston St. 10 a.m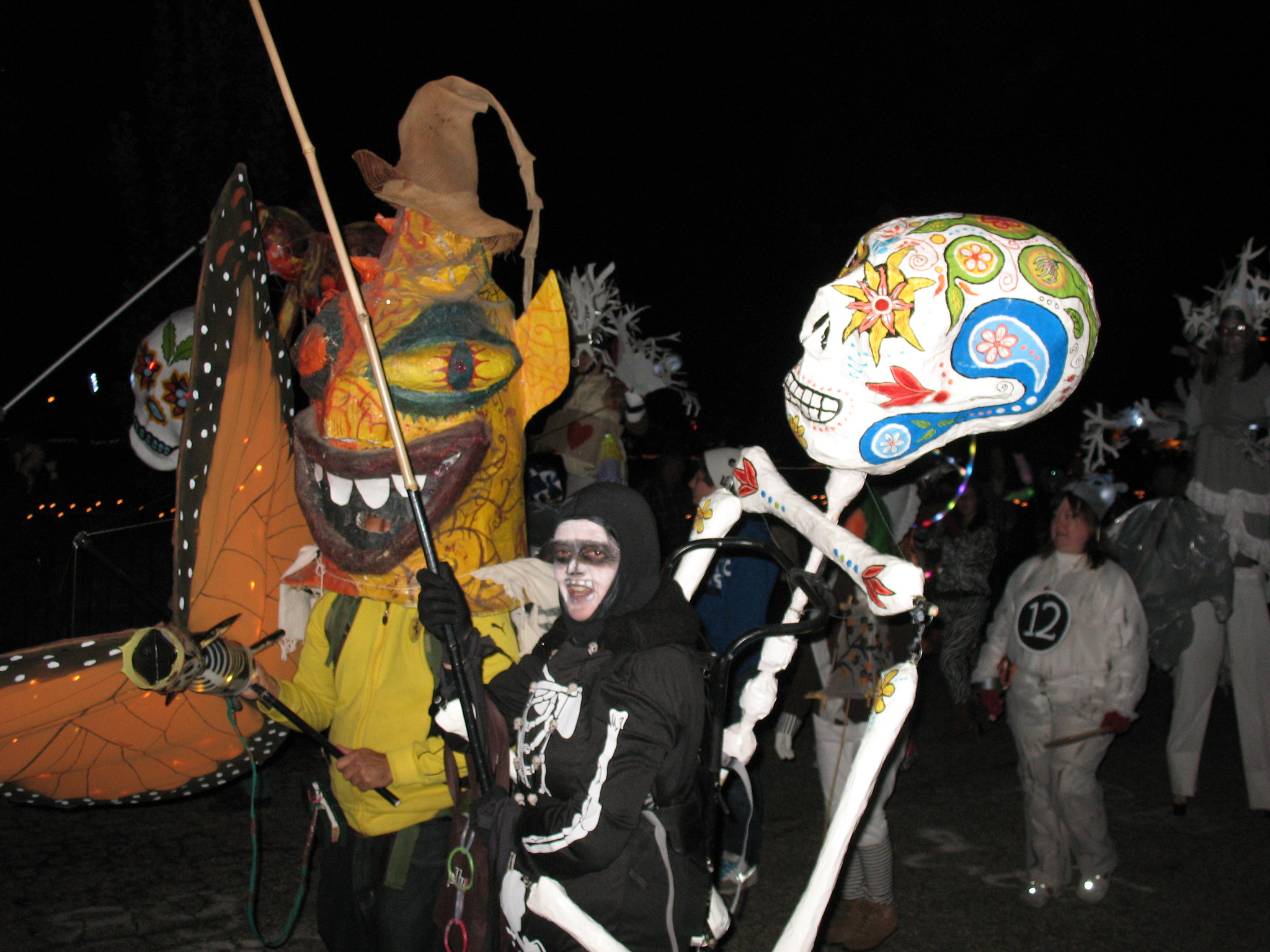 FAMILY FUN
Oct. 23: Great Halloween Lantern Parade and Festival
Watch in wonderment as Patterson Park's stoops fill up with lanterns and convivial floats. Per tradition, a marching band and stilt walkers will join in on the annual parade. Creative Alliance. Pulaski Monument. 4-8 p.m. Free.
Oct. 23: "If You Ever Met a Skeleton" Storywalk at The Ivy Bookshop
Take the kiddos out for an enchanting afternoon at this Mt. Washington shop, where they'll join author Rebecca Evans for a spooky craft and interactive reading of her book about a friendly skeleton. The Ivy Bookshop. 5928 Falls Road. 2:30 p.m. Free-$25.
Oct. 23: Trick-or-Treat at the Square
Peruse the square for candy, score free pumpkins, and be sure to stop to sip and munch on monstrous concessions. Stick around for spooky dance lessons with sounds by DJ Chris. Belvedere Square. 529 E. Belvedere Ave. 12-3 p.m. $5.
Oct. 29-31: Zoo Boo
Keep watch for candy chutes throughout the Druid Park landmark and enjoy a jam-packed weekend full of trick-or-treating, live performances, ghoulish games, and prizes. The Maryland Zoo in Baltimore. 1 Safari Place. Free-$26.
Oct. 30: 2021 SoBo Halloween Bash
Thanks to volunteers, this neighborhood tradition soldiers on to bring the best of Halloween to South Baltimore. Unwind with tasty food truck fare, some grownup sips, and loads of spooky fun to tide the tots. Leone Riverside Park. 1-5 p.m. Free.
Oct. 31: Candy Caravan at BMI
The Key Highway museum will once again play host to quintessential trunk-or-treating fun (costumes encouraged!) Baltimore Museum of Industry. 1415 Key Highway. 3-5 p.m. Free.
Oct. 31: Howl-O-Ween Pet Costume Contest
Make sure Fido brings his A-game to Fells Point for this Spooktacular fete. And watch as other pups face off for titles such as "Most Creative," "Scariest," and "Owner Look-Alike." Broadway Square. 4 p.m. Free.
FRIGHTENING FLICKS
Oct. 29: Hocus Pocus Screening
The classic tale of a teen who meets a feisty flock of Salem-era witches will be on full display in White Marsh. Pull up a chair and bring a blanket, or keep cozy on the patio with Avenue eats. The Avenue at White Marsh. 8125 Honeygo Blvd. 6-10 p.m. Free.
Oct. 30: Addams Family Movie Night at Guinness
On the Halethorpe taproom's lawn, spread out and laugh along as Gomez, Morticia, and the rest of their creepy and kooky crew take the screen. Guinness Open Gate Brewery. 5001 Washington Blvd. 6:15 p.m. Free.
Oct. 31: Horror Movie Trivia at Nepenthe
Think you know your favorite frightening features? Flaunt your cinematic smarts when you hit up the Hampden taproom for a chance to take home cash. Nepenthe Brewing Co. 3626 Falls Road. 2-4 p.m. Free.
SPOOKY SOIREES
Oct. 28: Sweet Spot Turn off the Light Halloween Party
Channel all things bloody with this deadly drag show at The Manor in Mount Vernon, with guests including local legends BABY and Alastor to provide the evening's sounds. The Manor. 924 N. Charles St. 9 p.m.-2 a.m. $10
Oct. 29: Nocturne Halloween at Ottobar
The Charles Village venue comes to life with gothic, dark wave, and industrial sounds. Don't forget to wear your favorite costume for the chance to win a creepy cash prize. Ottobar. 2549 N. Howard St. 9 p.m.
Oct. 29: Shriek of the Halloween Spooktacular Peabody Heights
To pair with your sips, the Old Oriole Park taproom will supply a soundtrack sourced from horror-raising numbers past. Listen out for everything from soul and surf garage to ska. Peabody Heights Brewery. 401 E 30th St. 6-9 p.m. Free.
Oct. 30: Day of the Dead Festival and Parade
"Day of the Dead bread" and housemade hot chocolate will serve as the fuel for this annual party in Patterson Park, complete with giant puppets and a mariachi band. Creative Alliance. 3134 Eastern Ave. 12-3 p.m. Free.
Oct. 30: Halloween Ochentero
Dust off your '80s gear and head to Old Line Spirits for a night of retro tunes brought by Bad Hombres. Should you break a sweat, refuel with tasty Mexican cuisine made by Cocina Luchadoras. Old Line Spirits. 200 S. Janey St.
Oct. 30: Halloween Karaoke at The Hon
Get into the spirit with a round of karaoke at the much-loved Hampden haunt. Download the SongbookDB app ahead of time to queue your favorite Halloween tunes. ("Monster Mash," anyone?) Hon Bar. 1000 W. 36th St. 9 p.m. Free.
Oct. 30: Saints and Sinners: The Costume Cocktail Party
Admission to this bash includes one complimentary cocktail sip, fright-inducing finger foods, and photo ops galore. Best costumes take home a cash prize. 2016 N. Charles St. 4-8 p.m. $30.
Oct. 31: Boo-Runch at Kooper's
Grab the fam (including furry friends) and book it to this Thames Street spot for pumpkin decorating and some creepy cuisine. Kooper's Tavern. 1702 Thames St. 10 a.m.-3 p.m. Free.
Oct. 31: Ottobar Halloween Maker's Mart
Visit Ottobar to ring in Halloween with retail therapy and frosty treats by Lola and Mimi's. Between licks, browse around for flashy stoneware, fortune candles, cozy scarves, and vibrant handmade prints. Ottobar. 2549 N. Howard St. 11 a.m. -3 p.m. Free.
Oct. 31: Power Plant Halloween Bar Crawl
Costumes are encouraged for this frightening downtown crawl, As always, enjoy live tunes and deals on bites and boo-zy sips at local haunts like PBR and Luckie's. Power Plant Live. 34 Market Place. 3-11 p.m. $14.99-39.99
source:
https://www.baltimoremagazine.com/section/events/halloween-baltimore-2021-events-parties-festivals/
Your content is great. However, if any of the content contained herein violates any rights of yours, including those of copyright, please contact us immediately by e-mail at media[@]kissrpr.com.