Listen to the audio below for the full interview with Texas State Senator Bryan Hughes.
The third special session for the Texas Legislature is over and as of today, there doesn't appear to be any plans for the fourth special session. Of course there is some disagreement about whether a fourth special session is needed. Lieutenant Governor Dan Patrick called for a fourth special session on Wednesday, but the Governor made it clear through a spokesperson that now wasn't the time for another special session.
Texas State Senator Bryan Hughes joined The Chad Hasty Show on Wednesday to share his thoughts on the special sessions and the accomplishments of them.
Hughes discussed redistricting and the process that went into it and also spoke about the voter integrity legislation that was passed but became controversial among Republicans after the Texas House and Senate voted to approve the bill with reduced penalties for illegal voting. According to Hughes, the House offered it up as an amendment that the Senate just "missed". Hughes did say that it shouldn't lead to any negative impacts on prosecution of cases.
This one got past us. And I don't know what else to say. It's embarrassing. We should have caught it. The good news is, this charge of illegal voting, the AG tells us that no one is just charged with illegal voting. It's illegal voting plus fraud and other counts. So the good news is this should not effect prosecutions.
Hughes went on to say that the practical effect isn't much but admitted that passing a strong bill but weakening the punishment sends the "wrong message". Hughes says it needs to be fixed in the future.
Listen to the full interview with Texas State Senator Bryan Hughes above.
21 Texas Towns Outsiders Can't Pronounce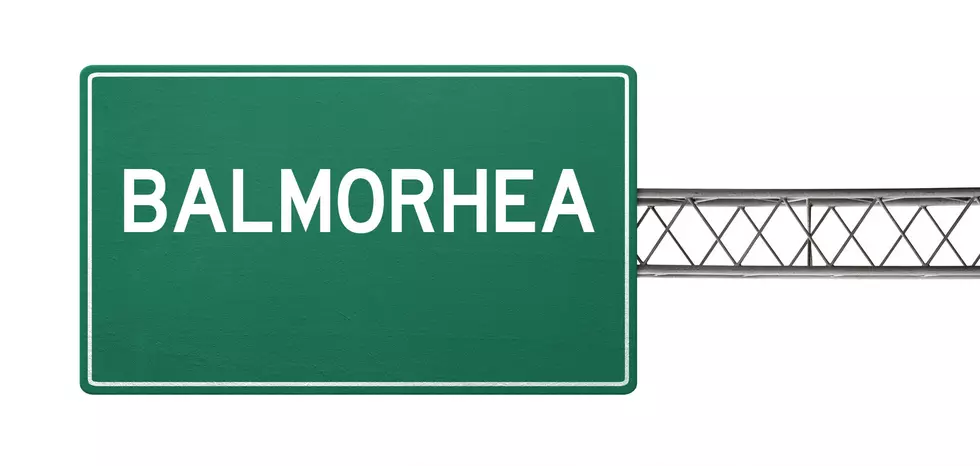 Balmorhea
This West Texas town is home to Balmorhea State Park, where you'll find the world's largest spring-fed swimming pool. So, how do you pronounce it? BAL-moria? BALL-more-ay? That second one's close! It's BAL-more-ay.
Bexar
Ok, so it's a county, not a town, but I had to include this one because it's intentionally and proudly mispronounced by people who live there. Most folks say BAY-har, but the official pronunciation is supposed to be BAIR. I dare you to tell someone who lives there that.
Buda
Buda is considered the Outdoor Capital of Texas, and their motto is Breathe Easy Here. As zen as that sounds, it's not pronounced like Buddha. It's pronounced BYOO-duh.
Named for the first provisional president of the Republic of Texas, Burnet is loaded with history. It's a fun place to visit if you're a history buff or just want to learn a little more about our state.
Cuero lies between San Antonio and Victoria. It was once part of the legendary Chisholm Trail, and was reportedly the site of many a gun fight between feuding families back in the day. Please don't make the cringeworthy mistake of calling it SWEAR-oh or KAI-row. It's KWAIR-oh.
Dumas is a North Texas town with a long, proud history in the cattle game. Outsiders might think it's pronounced doo-MAH like the famous French author of The Three Musketeers and The Count of Monte Cristo, but it's simply pronounced DO-muss.
Gruene is one of the hottest spots for tubing, fly fishing, and live music in Texas. So, how do you pronounce it? It's not GROO-in or GREN-way, as I've heard some folks say. It's GREEN. You know, like the color.
This town's name isn't the only thing that's weird. First of all, it's not pronounced EYE-ran or ear-RAHN. It's pronounced IRA-ANNE - a name formed by smooshing together the names of its founders, Ira and Ann Yates. It's the home town of classic cartoonist Victor T. Hamlin, who created the loveable caveman Alley Oop. Those quirky little facts alone would make Iraan stand out, but there's also an odd conspiracy theory that claims the town on the surface is only inhabited by a few actors for show, and that about three miles underneath it is a massive underground city where military research and tests are conducted. Yikes!
Leakey is a gorgeous piece of paradise just northwest of San Antonio, sometimes referred to as "The Swiss Alps of Texas" or "Land of 1100 Springs". With all that water from the Frio and Nueces Rivers just perfect for rafting, swimming, and fishing, maybe it's not surprising that people would pronounce it LEE-key. It's actually pronounced LAY-key.
This is another one I've heard mispronounced during conference calls.The small Central Texas town isn't pronounced LAWN-oh, YAWN-oh, or LANE-oh. You want to say LAN-oh.
Most out-of-staters probably only know Manor as the setting for that movie, 'What's Eating Gilbert Grape?'. Even if they've seen that film, they'd probably still pronounce it MANNER or MAW-ner. We know it's MAIN-er. I've always wondered if the fictional town of McMaynerberry from King of the Kill was supposed to be based on Manor.
McQueeney is another town famous for its waters. Lots of folks love swimming and fishing there. So, you'd think this one would be a no-brainer, right? Mick-KWEEN-ee! Wrong. It's pronounced muh-KWEE-knee.
The fine people of Mexia know there's a world full of people who have no idea how to pronounce the name of their town, and they have a great sense of humor about it. The town's motto is, "A great place to live, no matter how you pronounce it." No, it's not pronounced MEX-ia or MESH-ya. It's muh-HAY-uh.
When most folks see the name Miami, they think of Crockett and Tubbs chasing down some coke dealers in a speedboat or David Caruso taking off his sunglasses and making a goofy pun over someone's mutilated corpse. Few would imagine a tiny Texas Panhandle town that pronounces it my-AM-uh.
Nacogdoches
Palestine
It's spelled exactly like the Middle Eastern country, which even Middle Eastern folks can't agree how to pronounce. It's not pronounced PAL-uhs-tyne, but PAL-ess-steen. It's also one of the Lone Star State's top family destinations for Christmas.
Quitaque
Quitaque is a tiny North Texas town that perfectly embodies what most outsiders would probably imagine a small Texas town to be like. Its name, however, can boggle even Texas natives. It's pronounced KIT-uh-kwah.
Refugio is a charming little place near the Texas coast just south of Victoria. Fun fact: Nolan Ryan was born there. You might think it's pronounced reh-FYOO-jio, but it's actually pronounced ri-FYOOR-ee-oh.
The Village of Salado is a tiny town packed full of culture, art, brews, and wine. It's also where you'll see the annual Scottish Highland Games. (If you've never been, you seriously need to plan to go this year. It's fantastic.) Salado's simply a wonderful place to visit and an even better place to live. You've probably heard people from out of state try to pronounce it SAUL-uh-doe or SALAD-oh, but we know it's suh-LAY-doe.
Oh, come on. How could people possibly get this one wrong? Aside from being home to Baylor University and Chip and Joanna Gaines, it's also made national headlines several times for...well, let's not get into all that. It's also the home of Dr. Pepper, so you'd think it would have a sacred place in the hearts of all people. Nope. I still hear folks call it WHACK-oh, and only half of them are just trying (and failing) to be funny. It's WAY-co. C'mon.
Waxahachie
Okay, so this is one I've heard even lifelong Texans butcher in so many fun and unique ways. I wasn't even sure how to properly pronounce it until I heard it said aloud during a Country Reporter segment a few years ago. It's not WAX-uh-hatch-ee, it's WOK-suh-HATCH-ee.
The 25 Best Suburbs in Texas to Raise a Family
Rollingwood
Rollingwood is a suburb of Austin, Texas. It has a population of 1,532, and the Barton Creek is a great place to visit for hiking, swimming, and kayaking.
The Woodlands is a city in Texas. It has a population of 113,819 and they have lots of golfing, shopping, hiking and bike trails to enjoy.
source:
https://kfyo.com/bryan-hughes-says-illegal-voting-penalty-shouldnt-impact-prosecutions/
Your content is great. However, if any of the content contained herein violates any rights of yours, including those of copyright, please contact us immediately by e-mail at media[@]kissrpr.com.